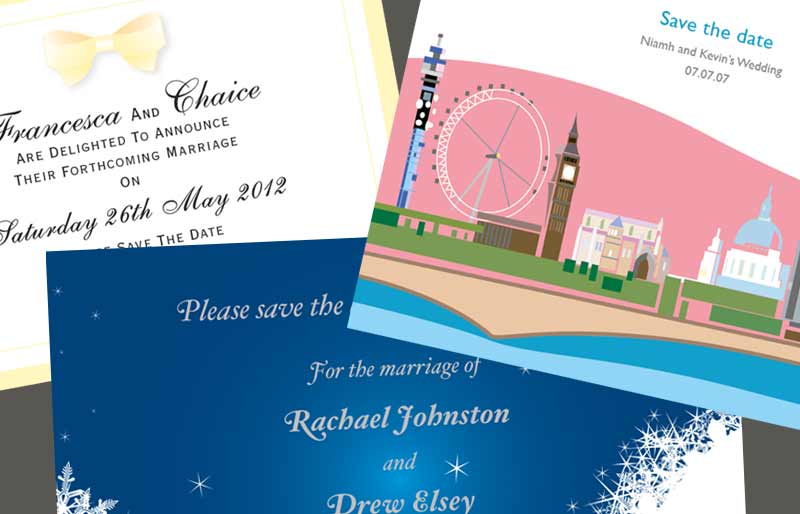 Congratulations on your engagement. Now the wedding planning starts! The first step in any wedding plan is to pick the Big Day! However, once you have done that and worked out who you want to come to your wedding you will need to make sure that you bring your guests into the planning! The easiest way to do this is to send out a Save the Date card. This informal pre-invite officially announces the day you have chosen for your nuptials and lets your guests know that they have been selected to celebrate it with you. If you have set up a wedding website sharing it on your Save the Date cards is easy to do too.
Save the Date cards precede your invitation therefore your wedding planning is still ongoing. The cards themselves only need to include the date of your wedding and possibly the place you are wanting to get married in. It doesn't have to be the exact venue but, for instance, if you are planning a destination wedding then advance warning is important for your guests. For these occasions it is advisable to send out the Save the Dates 8-12 months in advance. For a more local affair about 4 months in advance is recommended.
In terms of your design scheme or theme of your wedding, this again need not be fully formed. After all its early days still in terms of your planning. At Art Wedding Stationery we work with you so that these cards fit your personalities and enables your friends and loved ones to start thinking of you both as a couple. We can include imagery of yourselves in various formats, utilising Marks many artistic skills. Or if you have a theme/design in mind then this is the perfect opportunity to try it out!